A founder member of our line-up since we launched Sontronics back in 2005, the STC-2 is a worldwide best-seller and has become a must-have mic in studios around the world thanks to its incredible accuracy, smooth performance and superb clarity.
​
Now available with must-have accesssories – shockmount, nylon-mesh popshield, XLR cable and zip-up pouch – this large-diaphragm condenser mic has a fixed cardioid pattern and is ideally suited to vocals, voiceover and acoustic instruments, from acoustic guitar and piano to brass, woodwind and strings, but can also be used in pairs for all kinds of stereo applications.
STC-2's evenly balanced frequency response results in rich, defined lows and a detailed, open top end, accurately reproducing your source in all its glory.
Like all our condenser mics, STC-2 features our signature smooth high-frequency roll-off, ensuring a natural top end and a recording that sits perfectly in the mix.
VERY VERSATILE
Perfect for vocals
and all kinds
of instruments
PICK A COLOUR
Choose whether
you want STC-2
in black or silver
SUPERB SOUND
Natural presence
and clean results
on any source
FIRM FAVOURITE
Global best-seller
since its launch
in 2005!
"STC-2 is unbelievable! It's solid and professional and quality-wise it's comparable to (if not better than) mics that cost three or four times the price."
Stevie Cripps, Voiceover Artist (Radio 1, Sony, Red Bull, Paramount)
STC-2 has impressed users and reviewers alike over the years since it was first launched.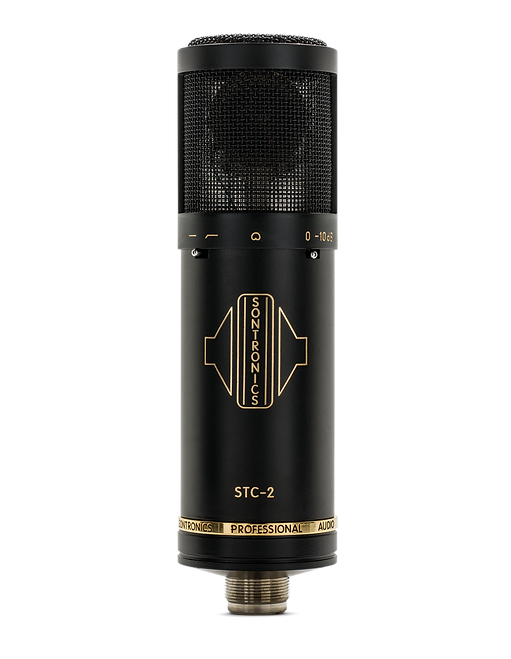 Even though STC-2 is one of our most affordable and accessible microphones, it is crafted with great care and attention to detail, both in its internal electronics and its external build.
Adding to its versatility, the STC-2 features a two-stage filter switch, giving you complete control over the low end, and a two-stage pad switch, allowing it to cope with powerful sources such as brass, drums and guitar amps.
Available in brushed silver or sleek satin black, STC-2 is supplied with its spider-style shockmount in an aluminium flightcase, for protection between sessions or out on the road.
This stunning studio tool will truly change the way you hear things!
Our STC-2 PACK is a great all-rounder for all kinds of voices and acoustic instruments, whether in the studio or in a home environment.
It's a favourite with singer/songwriters thanks to its ability to capture
vocals and guitar at the same time.
"Our two STC-2s have completely revolutionsed the way we work. We can record in one take and the final mix is immediately usable. No EQ, no plug-ins, just perfect!"
Michael J Langley, Producer/Engineer
MIC TYPE
Large-diaphragm
condenser
POWER
Phantom power 48V (±4V) required
WEIGHT
621g (1,064g with shockmount)
DIMENSIONS
194 x 53 x 53mm