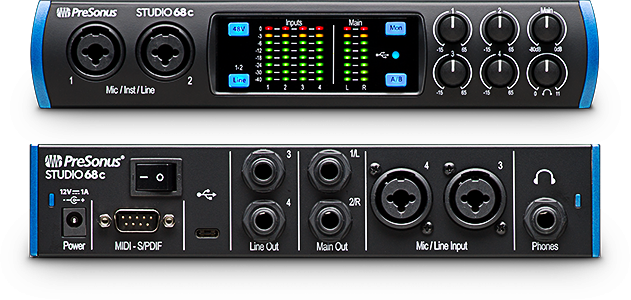 Superior sound.
The Studio 68c operates at up to 192 kHz for ultra-high-definition recording and mixing. High-quality converters on every input and output and four of PreSonus' professional-grade XMAX mic preamps enable you to capture complex musical harmonics smoothly and naturally, with no audible distortion. XMAX mic preamps are known the world over for their ability to deliver incredibly high headroom, deep lows, smooth highs, and a rich overall sound so you'll hear every breath, transient, and detail in your recordings.
Stress-free recording.
Professional tools make any job easier. That's why we included professional input and output metering on the Studio 68c, allowing you to keep an eye on your input and mix levels when you're recording by yourself. An easy to use direct monitor control blends the analog input signals with playback from your computer, simplifying monitoring. Two pairs of outputs afford two different stereo mixes. Plus, all four ¼-inch TRS, line-level outputs are DC coupled, enabling them to send control voltages. The Cue A/B button allows you to toggle between each mix while listening in on headphones, great for live performance and studio alike.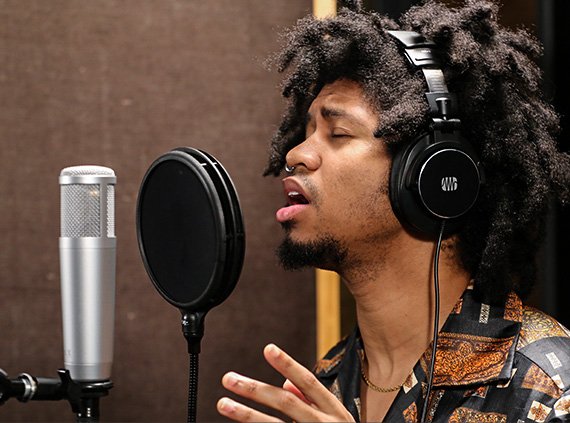 Wherever the sound takes you.
When you're upgrading your performance rig or building a custom production studio, the Studio 68c will give you clear, clean, ultra-high-def sound with the professional tools you need to achieve world-class results. While it's a perfect companion for any recording software, the Studio 68c and included Studio One Artist provide you with a complete, affordable recording solution that will make you sound great.
Input/Output
Simultaneous I/O up to 6 inputs/6 outputs (4×4 at 192 kHz)
2 mic/instrument/line inputs with XMAX Class A mic preamps
2 mic/line inputs with XMAX Class A mic preamps
2 balanced ¼" TRS main outputs

DC coupled for sending control voltages

2 balanced ¼" TRS line outputs for monitor mixing

DC coupled for sending control voltages

1 stereo headphone output
MIDI In/Out
Stereo S/PDIF digital I/O
1 USB-C™ compatible 2.0 port

USB-C™ to USB-C™ and USB-C™ to USB-A cables included for compatibility with most computers
Meters, Controls, and Features
Direct monitoring
Cue mix A/B (for headphone output)
Front-panel level controls for main outputs
True +48V phantom power for condenser microphones (global)
6 ladder-style LED level meters (4 input, 2 main output)
Integrated Software
Studio One Artist®
Studio Magic Plug-in Suite
Digital
USB-C™ compatible port (USB 2.0)
24-bit resolution
44.1, 48, 88.2, 96, 176.4 and 192 kHz sampling rates
Physical
Road-rugged construction with all-metal chassis and metal knobs